Green Crack Cannabis strain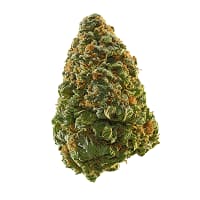 THC
13% - 25%
CBD Avg.
0.10%
Type
65% Sativa
Green Crack plant details
Aroma & Flavor
Citrus, earthy, sweet, pine, fruity,Earthy, mango
Noticable effects
EUPHORIC, CREATIVE, COTTON MOUTH
Origin
Skunk #1 crossed with Sweet Leaf Indica
Resistance
Susceptible to powdery mildew
Climate
Temperate / continental
Green Crack growing
Flowering time
7 - 9 Weeks
Harvesting month
Late september, early october
About Green Crack
Originally titled Green Cush, just Cush or Lillie Coy when it was released as a clone only, this mango/papaya-smelling beauty is the result of an '89 SSSC Skunk #1 crossed with an unknown Californian Indica strain. Known for its super energizing effects and ability to increase creativity and focus, Green Crack has become an extremely popular daytime Sativa strain. Its buds are denser than the average Sativas. In flowering season, Green Crack is literally covered with resin and is completely white. The flavors that follow are ideal for fruit lovers, as this strain is simultaneously acidic, citrusy and earthy with an exotic touch and aftertaste. New strains can match the energy and concentration this Sativa yields.
Order feminized cannabis seeds, Autoflower cannabis seeds and weed seed mix-packs online!