Granddaddy Purple Cannabis strain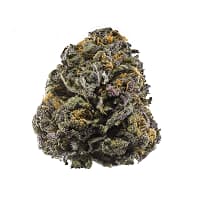 THC
13% - 23%
CBD Avg.
0.00%
Type
INDICA
Granddaddy Purple plant details
Aroma & Flavor
grape, berry, sweet, earthy,Hashy, fruity
Noticable effects
CREATIVE, SEDATED, RELAXED
Origin
Purple Urkle and Big Bud
Resistance
Resistant to mold, pests, powdery mildew, and diseases
Climate
Best growing in a humidity controlled environment
Granddaddy Purple growing
Flowering time
8 - 11 Weeks
Harvesting month
Mid October
About Granddaddy Purple
A hardy plant with tight internodes and a marvelous display of deep purple, blue, and red leaves during maturation. The buds stink up a storm in veg and flowering due to its extreme resin output. First place winner of the Medical Cup 2004 & Green Cup 2004, 2005, and 2006.
Order feminized cannabis seeds, Autoflower cannabis seeds and weed seed mix-packs online!