Ghost Train Haze Cannabis strain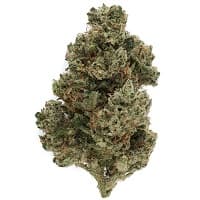 THC
18% - 27%
CBD Avg.
0.15%
Type
75% Sativa
Ghost Train Haze plant details
Aroma & Flavor
Citrus, Lemon, Sweet,Earthy, Floral, Pungent, Sweet
Noticable effects
Cerebral, Creative, Energizing, Euphoria, Focus, Giggly, Happy, Uplifting
Origin
Ghost OG mixed with Nevil's Wreck
Resistance
resistant to common diseases
Climate
hot and dry mediterranean climate
Ghost Train Haze growing
Flowering time
9 - 11 Weeks
Harvesting month
late October
About Ghost Train Haze
Regardless of expectations going in, this strain had very high marks in all areas, with the smell and appearance especially drawing our attention. We definitely think that this is daytime medicine, as the mental and physical stimulation it gave would likely keep a patient awake at night with mind racing. We actually liked a lower dosage of this strain in terms of daily use, as the psychedelic elements we experienced at high dosages made it less functional both mentally and socially — but those adventurous 'psychonaut' types among the MMJ patient population will likely enjoy those elements of the experience.
Order feminized cannabis seeds, Autoflower cannabis seeds and weed seed mix-packs online!