White Ice Cannabis strain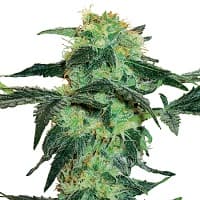 THC
15% - 20%
CBD Avg.
0.00%
Type
80% Indica
White Ice plant details
Aroma & Flavor
Earthy, Pungent, Skunky, Sweet, Woody, Pine
Noticable effects
Calming, Relaxed, Body-buzz
Origin
Afghani Hash Plant, Dutch Skunk, Northern Lights
Climate
Sunny climate with a long summer.
White Ice growing
Flowering time
7 - 9 WEEKS
Harvesting month
September
About White Ice
White Ice Feminized by White Label is 80% indica and 20% sativa. It has a very short flowering time of just 45 to 55 days. The plants are usually compact, especially when grown indoors. They produce a sweet, woody aroma, and often offer sizeable yields. Users claim that the high is potent and relaxing, which is due to the strain's mostly indica genetics. Althought White Ice Feminized has never won a Cannabis Cup award, it's widely regarded as one of the best strains to make hash with. Some growers call White Ice Feminized by another name – Indica Crystal Extreme (I.C.E for short). Its name comes from the huge amount of resin produced by the buds, which is white and sparkling like ice.
Order feminized cannabis seeds, Autoflower cannabis seeds and weed seed mix-packs online!