Shiva Skunk Cannabis strain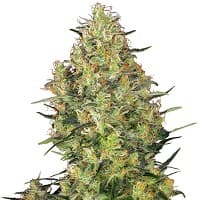 THC
13% - 20%
CBD Avg.
0.56%
Type
85% Indica
Shiva Skunk plant details
Aroma & Flavor
Spicy, Fruity, Sweet, Skunk
Noticable effects
Munchies, Calming, Relaxed, Couch-lock, Body-buzz
Origin
Skunk 1# and Northern Lights 5
Climate
Temperate / continental
Shiva Skunk growing
Flowering time
7 - 8 WEEKS
Harvesting month
Mid-September / Late September
About Shiva Skunk
Shiva Skunk Feminized is an 85% indica / 15% sativa strain. It's Sensi Seeds' most potent skunk variety, thanks to its parent-plants - Northern Lights #5 and Skunk #1. With short flowering times and high yields, the strain is well suited for growing in continental environments, or indoors. Users also appreciate its distinctive musky, citrusy aroma and taste. Shiva Skunk (Regular) won 1st place for Outdoor Grow by The Urban Club (ES) at CANNAVAL. It also won 2nd place at BHO Copa de Asociaciones Canarias. It's named after the Hindu deity Shiva. This is partly due to the fact that Shiva is often associated with cannabis, and partly because the strain is so powerful.
Order feminized cannabis seeds, Autoflower cannabis seeds and weed seed mix-packs online!