Black Harlequin Cannabis strain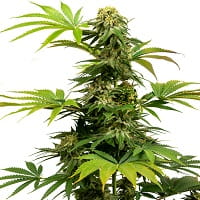 THC
5% - 15%
CBD Avg.
13.50%
Type
70% Sativa
Black Harlequin plant details
Aroma & Flavor
Noticable effects
Focused and Relaxed
Origin
Black Domina and Harlequin
Climate
Temperate / continental
Black Harlequin growing
About Black Harlequin
Black Harlequin is an indica / sativa hybrid. Its genetic pool includes Black Domina and Harlequin, a strong CBD strain from the USA. The plants grow to average heights, and the yields are often extremely large. The aroma and taste are earthy and woody, with floral notes. The strain has a THC / CBD ratio of 1:1, and an effect that's relaxing and balanced. The plants grow to average heights, both indoors and outside The strain can be grown indoors, and outdoors in temperate and continental climates The scent and flavour of the buds are woody and earthy, with a hint of floral lightness The THC / CBD ratio is 1:1, thanks to the introduction of a CBD strain to the genetic pool The high is pleasantly relaxing, without being too overpowering
Order feminized cannabis seeds, Autoflower cannabis seeds and weed seed mix-packs online!