Mexican Sativa Cannabis strain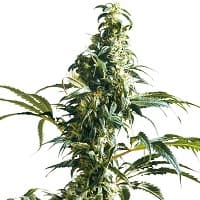 THC
11% - 17%
CBD Avg.
1.00%
Type
70% Sativa
Mexican Sativa plant details
Aroma & Flavor
Citrus, Herbal, Lemon, Menthol, Spicy, Sweet, Woody, Fruty
Noticable effects
Happy Clear-headed Uplifting Euphoric
Origin
Pakistani Hash Plant, Durban and Mexican
Climate
Cool /cold early flowering strain suitable to be grown outside in most climates
Mexican Sativa growing
Flowering time
7 - 10 WEEKS
About Mexican Sativa
Mexican Sativa Feminized seeds promise good yields, and can even be grown outside in cool climates. Not an obvious fact when you consider that these are seeds with a lot of sativa components. The feminized variant of the Mexican Sativa produces female plants only, which are popular on account of their resilience, their flavour, and not least their energetic high. Find out for yourself why this Mexican Lady attracts so many admirers. Do you like heavy metal? Then you might know the song "Sativa" by Anvil. "Sativa, sweet sativa, cannabis sativa, grown by nature down in Mexico", sings front man Steve Kudlow. Underpinned by breakneck guitar riffs, the song is a perfect match for the rousing effect of Mexican Sativa…provided that you like hard rock of course.
Order feminized cannabis seeds, Autoflower cannabis seeds and weed seed mix-packs online!